2 Research and Networking opportunities for US Students in Uruguay in the Agriculture or Viticulture area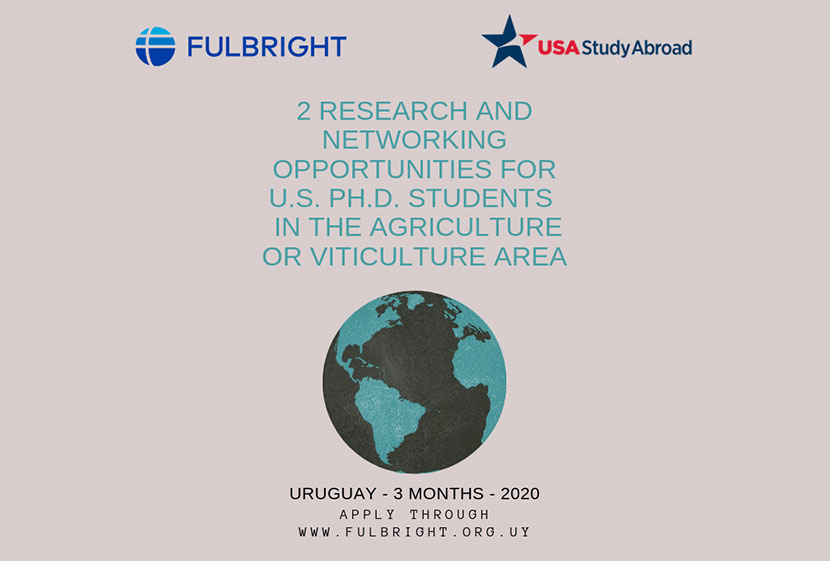 Description of Opportunity
The Fulbright Commission in Uruguay is pleased to announce a three-month internship opportunity in 2020 for U.S. students pursuing Ph.D. degrees in viticulture, viniculture, agriculture or a related field. This fully-funded program will support two U.S. students for research and internships with INIA, focused on the wine industry in Uruguay. The application period is now open. Please read below to learn more about qualifications and the application process.
This internship opportunity supports U.S. study abroad to Uruguay and is funded through a Study Abroad Engagement Grant from USA Study Abroad within the Bureau of Educational and Cultural Affairs, U.S. Department of State. This internship, though managed by the Fulbright Commission, is not considered a Fulbright Scholarship or other Fulbright Program.
Award Profile
Ph.D. students in the fields of Agriculture and/or Viticulture
Grant Period
3 Months between March to December 2020.
Foreign Language Proficiency
Recommended – Intermediate Spanish
Affiliation
Grantees in the fields of Agriculture and Viticulture will be able to conduct research while doing an internship at one of INIA's Experimental Stations. INIA is the National Institute for Agricultural Research www.inia.org.uy
Dependents
Dependent support is not available.
To apply: The 4 components of the application: (1- Biographical Information; 2 – Statement of Grant Purpose; 3 – Transcripts; and 4 – Letter of Reference) must be submitted by the application deadline of November 30, 2019 to [email protected]
1) BIOGRAPHICAL INFORMATION:
2) STATEMENT OF GRANT PURPOSE
The Statement should address the following questions:
What do you propose to do?
What is innovative about the research?
What are the specific research goals and methodologies?
What is important or significant about the project?
When will you carry out the project? Include a rough timeline.
Why do you want to undertake this project?
What are your qualifications for carrying out this project?
Why does the project have to be conducted in Uruguay?
Adhere to the proper format: Length is limited to a maximum of two single-spaced pages. Use 1-inch margins and Times New Roman 12-point font.
3) TRANSCRIPTS
You must provide transcripts from all undergraduate and graduate institutions from which you received degrees
4) RECCOMENDATION LETTER
You must submit one recommendation letter as part of the application from an individual who can best speak to your ability to carry out the project being proposed; as well as your intellectual and professional preparation.
Recommendation letter should be printed on institutional letterhead, signed by the author and submitted via e-mail to [email protected] with the following Subject:
Subject: Fulbright Recommendation for [your name] – Study Abroad Program/Agriculture and/or Viticulture
Eligibility requirements
Applicants must be citizens or nationals of the United States of America at the time of application. Permanent residents are not eligible. Applicants must be Ph.D. Students in the fields of Agriculture or Viticulture
Applicants must be in good health. Grantees will be required to submit a satisfactory Medical Certificate from a physician.
Applicants must have proficiency in written and spoken Spanish sufficient to communicate with the people and to carry out the proposed study/research.
Preferred Qualifications
Strong preference is for those who have not previously held a Fulbright grant.
Candidates who have served in the Armed Forces of the United States will be given preference, provided their qualifications are approximately equivalent to those of other candidates.
Ineligibility
The following are not eligible for consideration:
For a period ending one year following the termination of such employment, association, or service: Employees of the U.S. Department of State or the U.S. Agency for International Development. This provision includes all employees, paid or unpaid (including part-time or temporary employees, consultants, externs, fellows and contract employees). This provision does not apply to interns.
Employees of private and public agencies (excluding educational institutions) under contract to the U.S. Department of State to perform administrative or screening services on behalf of the U.S. Department of State's exchange program.
Officers of an organization, in the United States or abroad, including members of boards of trustees or similar governing bodies, or individuals otherwise associated with the organization, wherein the organization and the individuals are responsible for nominating or selecting individuals for participation in any exchange program of the Bureau of Educational and Cultural Affairs.
Board members or staff of a Fulbright Commission.
Members of the J. William Fulbright Foreign Scholarship Board.
Immediate families (i.e., spouses and dependent children) of individuals described in paragraphs. This provision does not disqualify self-supporting children who live apart from their parents.
For purposes of this section, the one-year period of ineligibility is calculated from the date of termination of employment, service, or association until the due date for submission of applications for program.
Diversity Policy
No citizen of the United States may, on the grounds of race, sex, color, religion, age, national origin, or disability, be excluded from participation in, be denied the benefits of, or be subjected to discrimination under any program or activity receiving federal financial assistance.
We seek and encourage the involvement of people from traditionally underrepresented audiences in all its grants, programs and other activities and in its workforce and workplace. Opportunities are open to people regardless of their race, color, national origin, sex, age, religion, geographic location, socio-economic status, disability, sexual orientation or gender identity. We are committed to fairness, equity and inclusion.
Factors in Selection
Selection is made on the basis of:
Quality and feasibility of the proposal as described in the Statement of Grant Purpose.
Academic or professional record.
Personal qualifications.
Language preparation.
Preference factors as established by the Fulbright Commission
Extent to which the candidate and the project will help to advance our aim of promoting mutual understanding among nations through engagement in Uruguay, among other activities.
Grant benefits
round-trip transportation to Uruguay
funding to cover room, board, and incidental costs
Grantees will be responsible for securing health coverage
Competition Timeline
Potential candidates will apply (July 2019 – November 30, 2019)
Applicants will be reviewed and selected by a panel composed of Fulbright Board members and staff, U.S. Embassy staff and INIA members. (November 2019)
Selected candidates will be notified of their status (December 2019)
Selected candidates will travel for 3 months – dates to be determined according to the agriculture/winery industries – between March and November 2020. Orientation will be provided upon arrival.